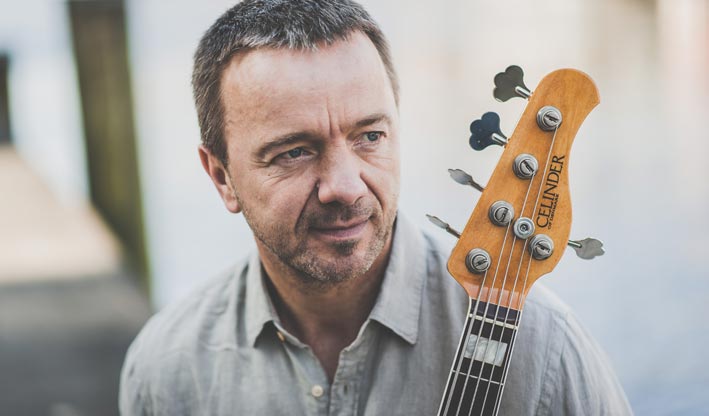 Lars is a consummate sideman who loves exploring many different genres of music. He has toured with top-class artists as well as contributed to CD, radio, TV and stage productions.

A teacher both at Hannover University for Music and Drama
and the Hamburg Conservatory
he's also an in-demand workshop coach.

His current projects include:
Discography (Excerpt)
Other productions (Excerpt)
Shockheaded Peter (Thalia Theater, Hamburg)
Next to Normal (Hamburger Kammerspiele)
Spamalot (St.Pauli Theater, Hamburg)
Eltern (Deutsches Schauspielhaus, Hamburg)
Nachttankstelle (St.Pauli Theater, Hamburg)
Hamburg Royal (St.Pauli Theater, Hamburg)
Ute Lemper & NDR Symphonieorchster (Tournee)
Lust (St.Pauli Theater, Hamburg)
Anatevka (St.Pauli Theater, Hamburg)
Aladdin (Neue Flora Hamburg)
Linie S1 (St.Pauli Theater, Hamburg)
Babytalk (Stadttheater Hildesheim, TfK Berlin)
Heaven can Wait (St.Pauli Theater, Hamburg)
Tarzan (Neue Flora Hamburg)
Hair (Stadttheater Hildesheim)
Bo Doerek – In Liebe und Dankbarkeit (Tournee)
Der Mann von La Mancha (Schloßtheater Celle)
Sommernachtstraum (Landesbühne Hannover)
Cabaret (Hansa Theater, Domfestspiele Bad Gandersheim, Theater im Schloß Bad Pyrmont)
Jesus Christ Superstar (Stadttheater Hildesheim, Domfestspiele Bad Gandersheim)
Hundertwasser (Landesbühne Hannover)